More space for ripening and logistics
The reasons for our constant growth are plain to see. We have found that people's interest in healthier food is undiminished, particularly in fruit and vegetables. The success of our unique Ready-to-Eat concept has not gone unnoticed, either. As a result, the threshold for consumers to buy exotic fruit has become much lower. Our next big hit is called Apeel: the plant-based technology that makes fruit and vegetables last longer.
The new extension is intended to create more space for the ripening process. We are adding 30 ripening cells, an expansion of the current number of 50 units. The extra square metres also allow us to streamline our logistics process even more. The entire warehouse will soon be automated, for example. The investments in packaging robots make it possible to respond more flexibly to our customers' packaging requirements. This requires a lot from the ICT environment and the electricity supply. That is why we are constructing a flexible ICT infrastructure and installing a purchasing station for electricity, which is suitable for further expansion.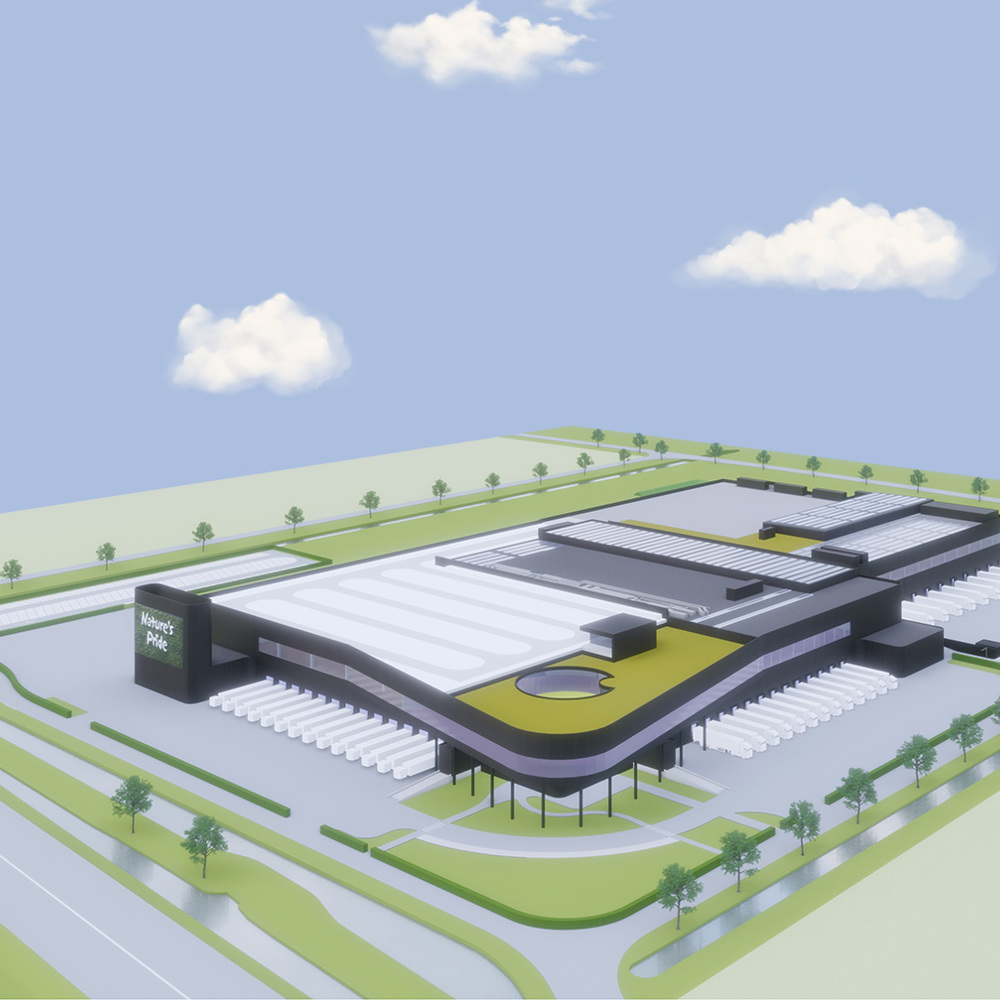 Nature's Pride is growing in sustainability
The design of the existing building is continued in the new building. We have used the same architect as in 2013: Paul de Ruiter Architects. We have high ambitions, translated into the well-known BREEAM certification. BREEAM Excellent (four stars) is the minimum we are striving for, comparable with the current building. The new design is based on the BREEAM Outstanding level. We now have the opportunity to complete the sustainability circle with the insights and lessons learned from monitoring the existing installations. This suits us just fine: always going the extra mile, learning and optimising based on insight and experience, so that we can realise even more benefits with innovative technology.
How can we become even more sustainable than we already are?
We use an advanced cooling installation for our cooling and ripening cells, which reuses heat released from the cooling process to heat the ripening process and offices.
We use solar panels to provide a large proportion of our energy needs.
We collect rainwater for use elsewhere.
The vegetation-covered roof will convert CO2 into oxygen and filters fine particles from the air.
The layout is designed so that working in the building also generates 'energy' for our employees. We are planning to start using the new building by the end of 2021.
Read more about the expansion project on naturespride-builds.eu