NEW – Sustainable blueberry packaging
We are excited to present our new blueberry punnet. This punnet design is attractive, more sustainable and also has nice consumer benefits. We are proud to deliver this to the market.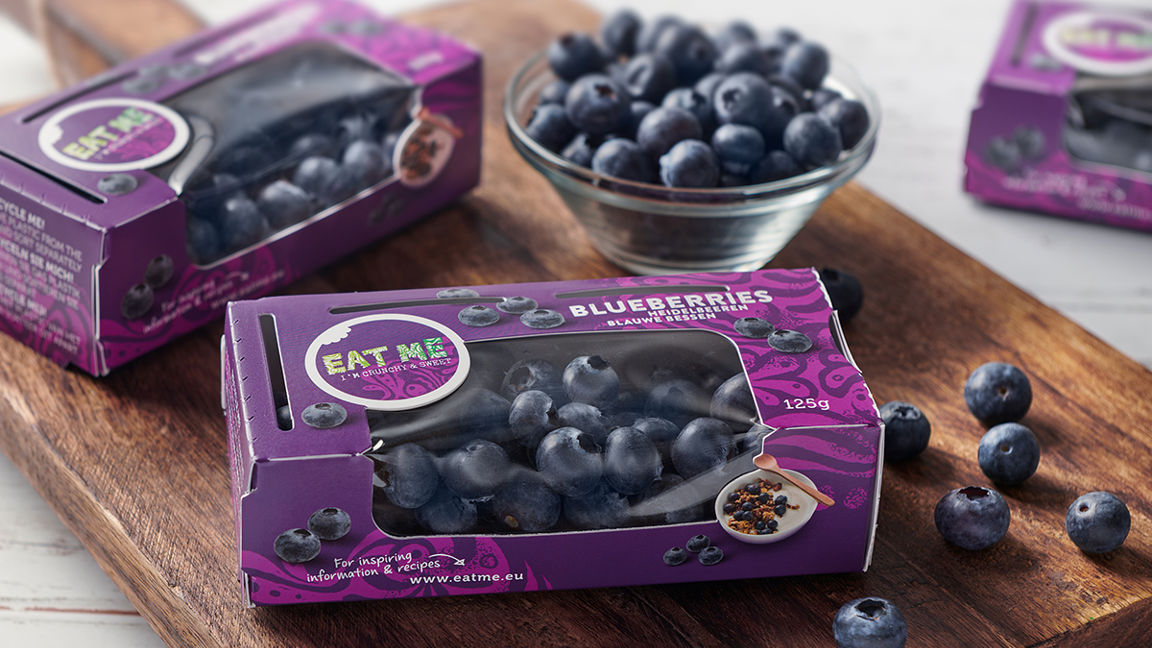 Sustainability is in our business DNA and for a while we have been looking for a sustainable alternative to the plastic punnet. Together with Bama Packaging, we found the solution in this new cardboard packaging. By using cardboard instead of plastic, as main material, we reduce the production & waste of new plastic drastically. The square shape also has an great advantage. It allows us to transport +65% more weight on an euro pallet. With this we reduce the CO2 emissions related to transport and as a result scale down our climate footprint.
Next to the sustainable advantages, the punnet is also designed for the needs of the consumer; The packaging artwork is attractive. The big window allows a clear product view. The berries can be washed directly in the punnet because it has 2 openings in the bottom. The punnet is reclose-able. The ultimate benefit is the shaker opening in the side of the punnet. Easily shake the necessary berries out of the container and close it again.
We believe that this cardboard punnet is the perfect next step towards a 100% sustainable packaging. The punnet is patented and we are currently testing & fine-tuning the packaging of the strawberries, raspberries and blackberries. The tests will be finalized in March. We expect to introduce cardboard packed blackberries, raspberries in May. The strawberry packaging will be marketed at the end of this year.
Ask our sales team for your blueberry sample!
Contact