Availability
Jan

Available
Feb

Available
Mar

Available
Apr

Available
May

Available
Jun

Available
Jul

Available
Aug

Available
Sep

Available
Oct

Available
Nov

Available
Dec

Available
Storage advice
Transport and storage: Plantains stay in optimal condition if they are transported and stored refrigerated. The recommended temperature is 10 to 12˚C.
Shop: Opt for the refrigerated shelf as the perfect place to keep plantains in optimal condition.
Our plantains are grown in:
Growing and harvesting
Growing and harvesting plantains is pretty much the same as for regular bananas. In the countries of origin (Ecuador, Colombia and Costa Rica) plantains grow in bunches of up to 50 kilos on the tree. A plastic bag with a special insecticide is placed around each young bunch. Plantains can be harvested 8 to 10 weeks after flowering. A cable car with hooks takes the bunches to the packing station.
This is where employees first check the quality. Approved plantains are then rinsed in an alum bath. Alum is a compound that kills bacteria and prevents premature rot. Next, the plantains are injected with an anti-ripening agent.
Finally, the unripe plantains are cooled down to 10 to 12˚C and shipped to Nature's Pride in 22 kg cardboard boxes.
Packaging options
Loose in packages of different sizes: 1 to 5 kg
Packed per 2 pieces (supplied in different package sizes, with 3 x 2 pieces, 4 x 2 pieces or 6 x 2 pieces)
Nature's Pride offers plantains under our own premium brand EAT ME. Of course, we are also happy for you to use your private label.
Recipes & preparation tips
Plantains cannot be eaten raw, but there are many ways to cook them. In addition to pan-frying, cooking, grilling or deep-frying plantains also creates that sweet taste, for example, as a crouton with a difference. Plantain skewers are also an excellent BBQ idea. The dessert possibilities of plantains are also widely known.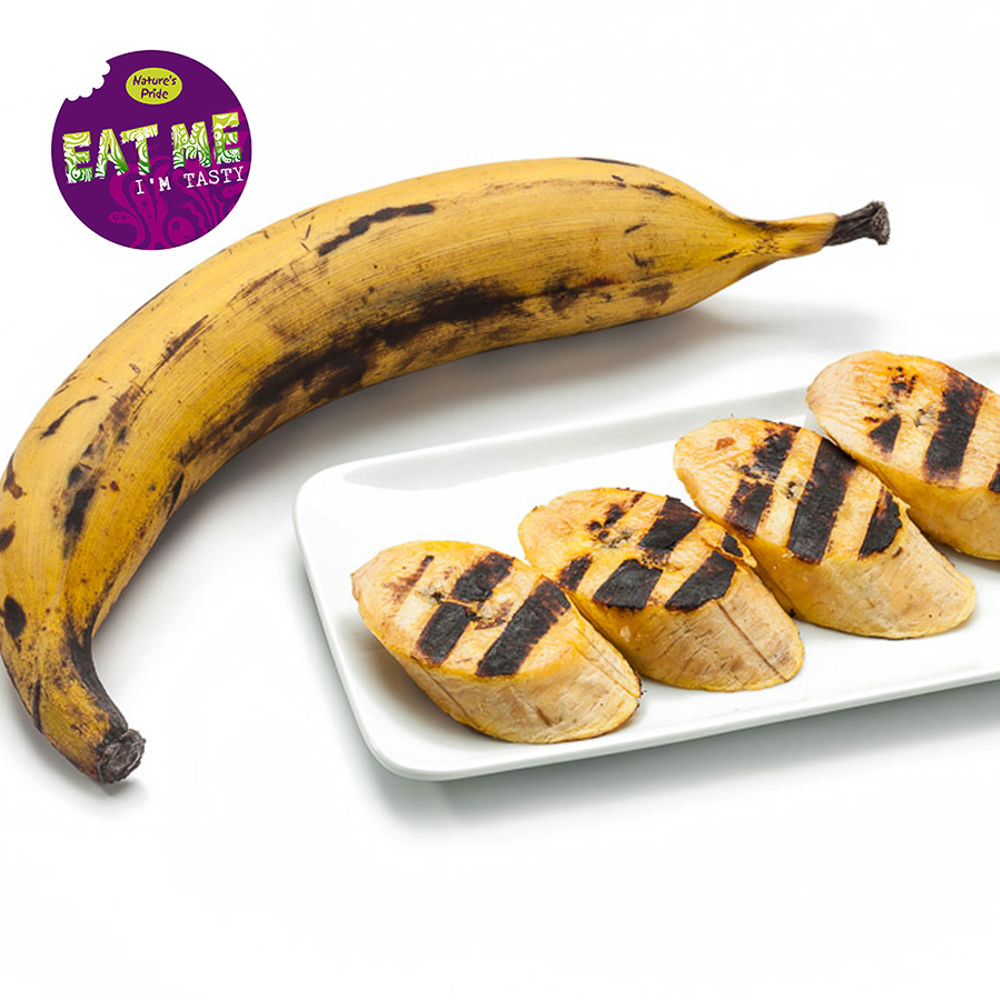 Get in
touch
Select what applies...